If you want to further customize and adapt Refapp to your organization's brand, there are a few updates you can do in Refapp.
Refapp has ventured further in developing branding possibilities for your organization. The options for customization are as follows:
Add your organization's logo in all communication to candidates and referees.
Update accent colour in the email sent to referees where we ask them to give feedback on the candidate, as well as the questionnaire.
Update the background image shown when a candidate submits their referees, the thank you page for referees, and the finished reference report. The picture should be around 1920x1080 and fit the format of only the sides being visible.
Either choose a dark or light background in the questionnaire section.
Update the font on the referee submission page, the questionnaire, and the finished report. At the moment, you can choose between a number of fonts, and we add more continuously. If your organisation is interested in adding another font, contact your Customer Success Manager, and we will look into the possibility of supporting that font. Google fonts are the easiest to implement.
Example of how a reference report could look like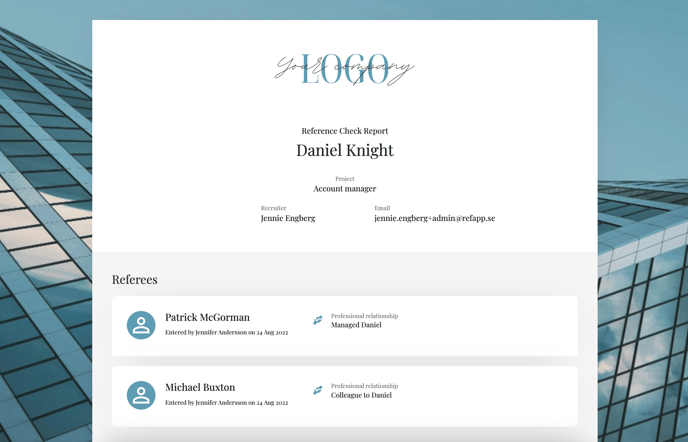 Reference form with a light background, blue accent colour and the font Playfair Display (serif).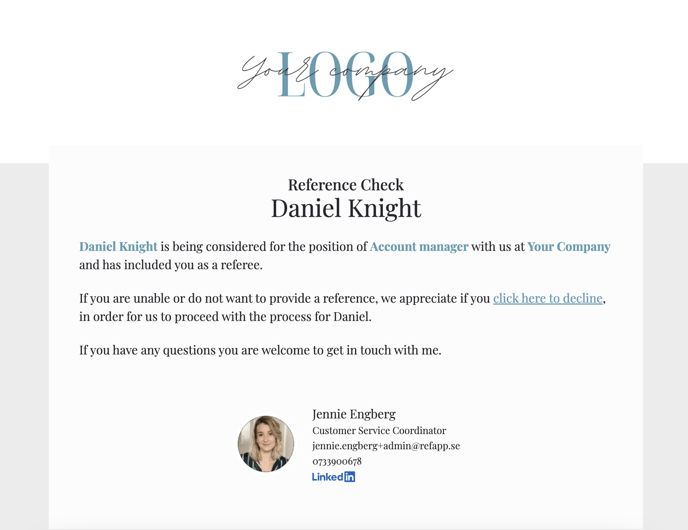 Are you interested in making some changes? Send a request to support@refapp.com or your Customer Success Manager.